Bestselling author Cayce Poponea


Fourth installment in the Code of Silence Series


Secret Sins.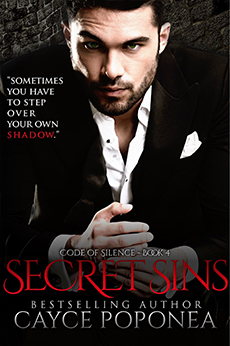 A powerful man living in the shadow of his father. An innocent girl crying desperately for help. A suspense-filled, romantic story of self-discovery.
Declan Malloy was born into a lineage of great and powerful men. Molded from birth to one day take over leadership of the Malloy Family. His position dictates he must protect those who have been given certain badges of honor. Keeping them safe has never been a question on his lips until a late night cry for help places him at a crossroads. One decision with two choices. The first, lined in shrouds of secrets, lies, and deceit. The other, a clear path to living life on the edge, continuing his fast-paced world of power, money, and an endless supply of women.
But when a secret is revealed after he announces his decision, will Declan hold on to his need to step out of his father's shadow? Or will his obsession to stand tall cloud his judgment and jeopardize his reputation, while costing him his heart.
Secret Sins is book four in Cayce Poponea's Code of Silence series. If you enjoy a Mafia romance where the main character knows the true meaning of Family and is willing to sacrifice himself so others can continue to hold their head up. Where a young girl who refuses to hope for a love found in the pages of books and chooses instead to honor those who mean the most to her, then you will love this installment of Cayce Poponea's page-turning series.
Pick up your copy of Secret Sins and discover this installment in the bestselling series Code of Silence today!!!
Purchase at any of these fine retailers…
Amazon.com
Barnes & Noble
Autographed Copy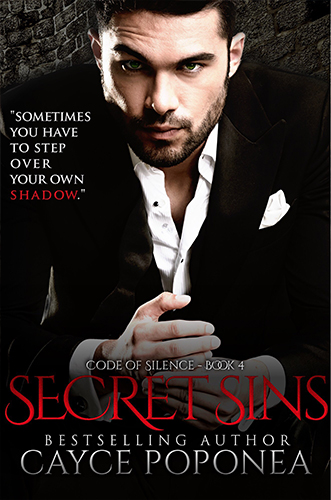 Volume 1 in the Trident Brotherhood Series

Signed, SEALed, Delivered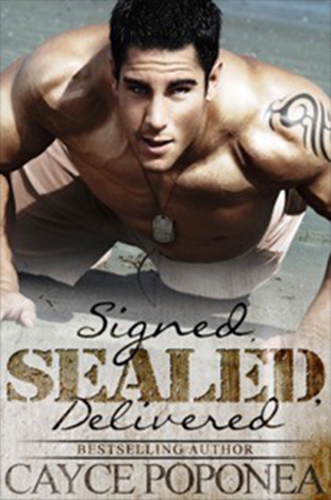 A SEAL on a mission. A woman dealing with her family's high expectations. A modern-day romance for the ages. Lieutenant Zach Michaels is in the middle of the Korengal Valley. On the eve of a new mission, he receives a desperate letter from a young woman. After he discovers the letter belongs to another soldier, he takes on a new mission; making sure it finds it's intended recipient. Kennedy Forrester has spent her life pleasing others, specifically, her social ladder climbing mother. When an internet search done in hopes of finding love, introduces her to the charm and charisma of Lieutenant Michaels, she is tossed into a world she never dreamed existed. As the two continue to correspond from half a world away, will either of them figure out the common link they share? With their lives interconnected, and his SEAL days in the past, can they find a balance allowing a blossoming relationship to thrive? Or will a new mission, one involving Kennedy's safety, be too much for this new love to survive? Signed, SEALed, Delivered is the first book in Cayce Poponea's romantic suspense, the Trident Brotherhood series. If you like Alpha males, who will stop at nothing to protect the women they love, sizzling sex scenes, and the evil of the world getting their just rewards, then you will love this installment in Cayce Poponea page-turning new series. Pick up Signed, SEALed, Delivered to discover this exciting new series today.
Purchase at any of these fine retailers…
Amazon.com
Barnes & Noble
Autographed Copy