WOW! I absolutely loved this book! This is the first book by this author that I have read and I loved it. I am looking forward to reading the other books in this series. Christi & Patrick won me over from the beginning but by the end of the book I was even more so loving them.
This is a great book and perfectly follows up Shamrocks. Cayce does an amazing job of expanding on the relationship between Christi and Patrick. It's nice to get inside Patrick's head this time around.
"Loved Loved Loved Stolen Secrets…..So much that I stayed up until 3 a.m. to finish it! Stolen Secrets is a mafia love story full of mystery! It is not your typical boy and girl meet and fall madly in love. There are plenty of secrets and drama for Arianna and Dominick to work through before they get their HEA.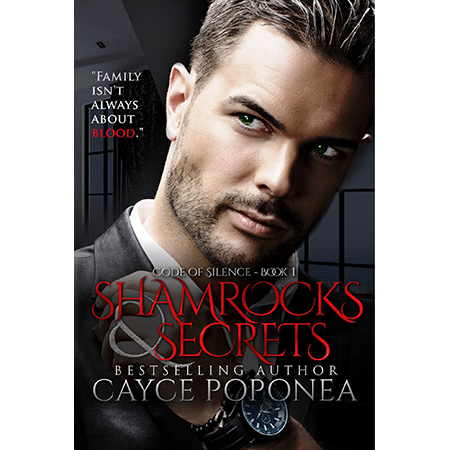 Shamrocks & Secrets
A girl trying to get by. A mob boss with Family obligations. A romance that seems impossible.
Christi O'Rourke is perfectly content with her life. With a successful career as an event planner, there is little time for a personal life. When a mystery guest at a wedding she organized, get a little too involved with her friends and family, Christi is forced to confront him. She knows first hand how blind love can be and how quickly it can leave you broken.
Patrick Malloy has it all; money, power, and his choice of women to warm his bed. When Family responsibilities force him to find a wife, his resolve is to agree to an arrangement made in his youth.
Discover what happens when Patrick turns on the charm and Christi learns she is outnumbered. Follow Christi as she learns the secrets behind Patrick's generosity and attention. Will his good looks and charisma be enough to win her over? Or will the evil lurking in the shadows destroy it all?
Shamrocks and Secrets is book one in Cayce Poponea Code of Silence Series. If you enjoy Mafia romance, where the bad guy shows just how good he can be, strong female leads, and revenge served up piping hot, then you will love this installment of Cayce Poponea's heart stopping series.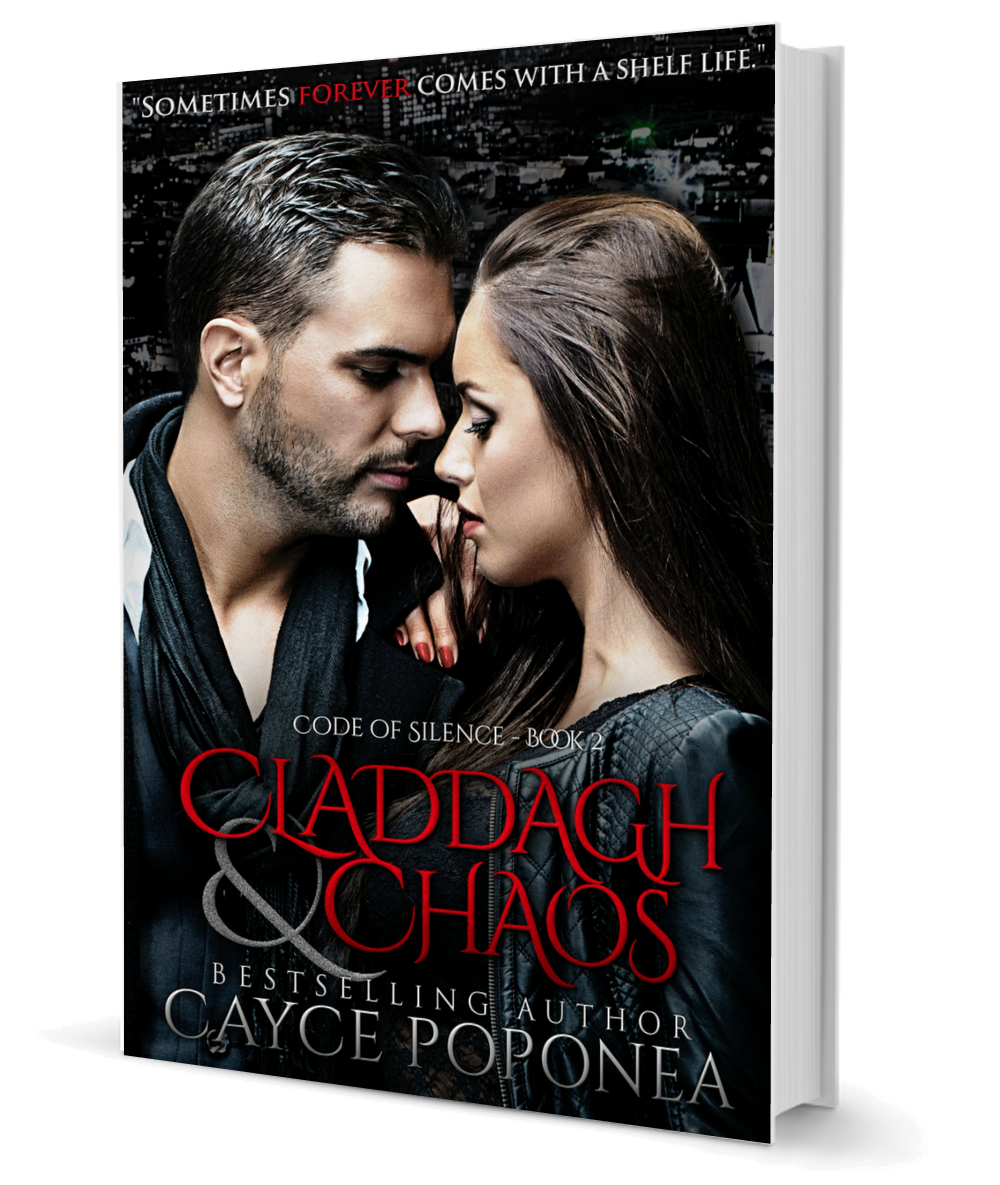 Claddagh & Chaos
Time is no authority on falling in love. It doesn't create the emotion we all crave, it only allows us to become comfortable in its absence.
Shamrocks and Secrets left us with Patrick and Christi Malloy finding their happy ever after. Despite the collaboration of evil forces who vowed to destroy them, they bonded together and came out stronger. However, Patrick did pose an interesting question; what happened in the missing twenty-five years? Clearly every romance has its honeymoon phase, complete with bells and whistles to blind us to the imperfections of the opposite sex.
But when a lie is told, one with detrimental implications, how will Patrick prove to Christi their love is forever and not to believe what she sees with her own two eyes. Can Patrick find the truth before it's too late? Or will their love come with a shelf-life?
Claddagh and Chaos is the second installment in Cayce Poponea's Code of Silence series. If you enjoy a Mafia romance with twists and turns which keep you guessing as to who the true villain is, then Claddagh and Chaos is for you. Pick up your copy and continue your adventure in the Malloy Family saga today!!!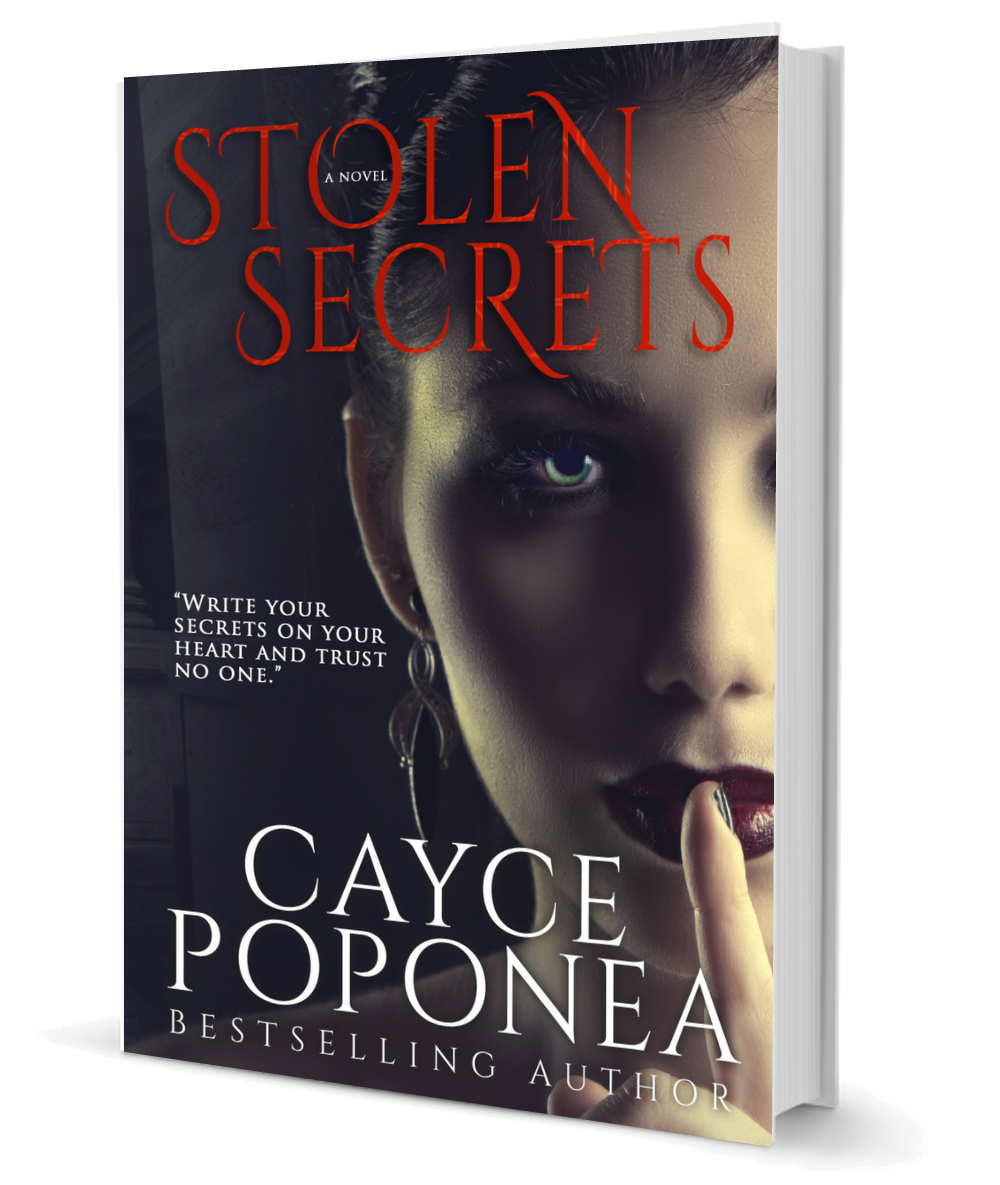 Stolen Secrets
Arianna Covington's world is turned upside down after the tragic death of her fiancé. Her friends watch as she tries to put the pieces of her life back together, only to fall further into the depression and seclusion her loneliness creates. To them, a trip to New Orleans for Mardi Gras will somehow make the demons, which haunt her, vanish into the sweltering heat of the night.
What they don't know is, Arianna has been living a lie, a spider web of secrets she keeps in order to stay alive. Using the city's reputation for lost inhibitions and excessive celebration, she vanishes into the sea of spectators. She emerges with a new look and endless choices, leaving behind the secrets and lies she never wanted or earned. How can one night of burying your past, turn into a war with Dominick Santos? A man even the devil himself fears.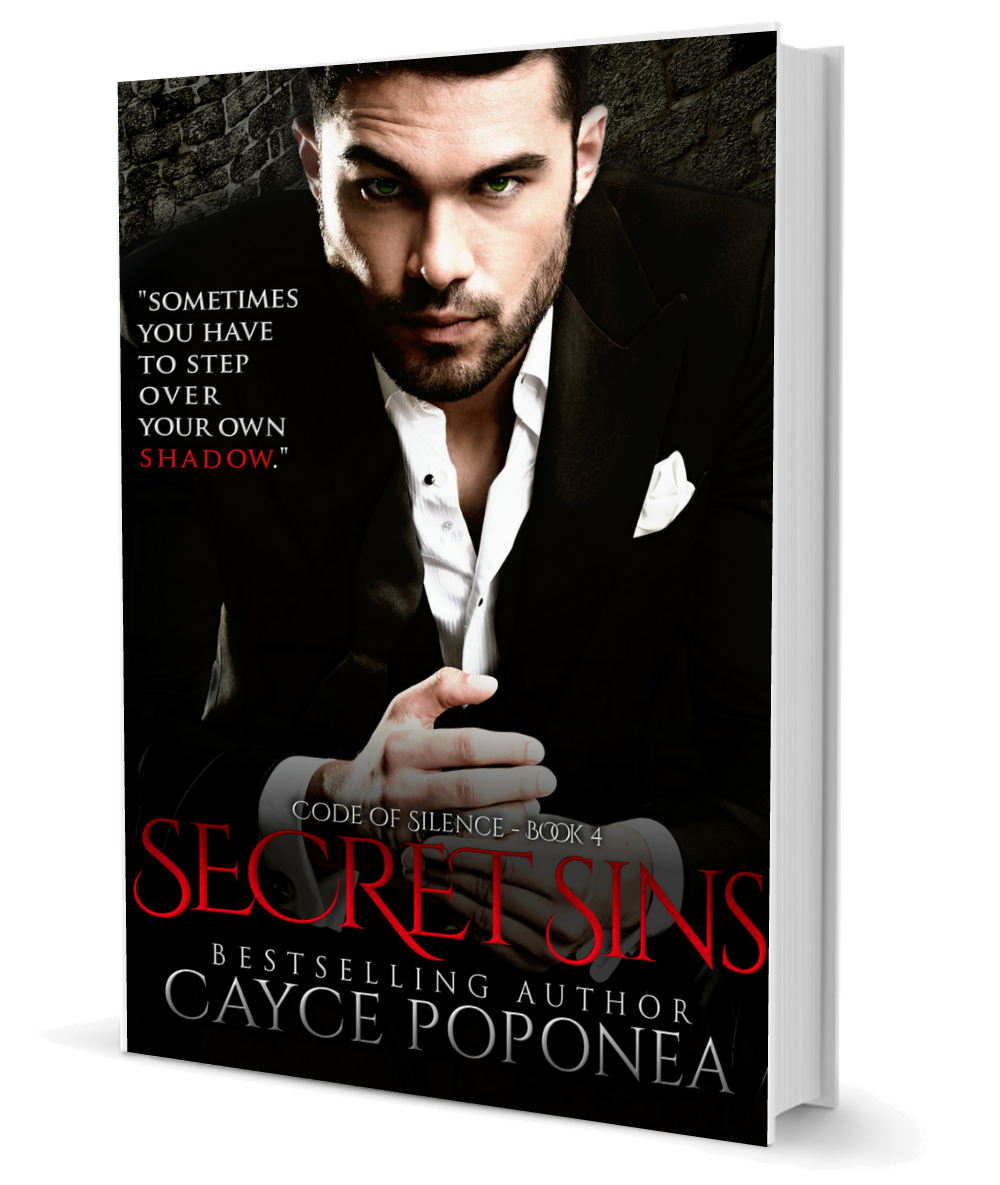 Secret Sins
A powerful man living in the shadow of his father. An innocent girl crying desperately for help. A suspense-filled, romantic story of self-discovery.
Declan Malloy was born into a lineage of great and powerful men. Molded from birth to one day take over leadership of the Malloy Family. His position dictates he must protect those who have been given certain badges of honor. Keeping them safe has never been a question on his lips until a late night cry for help places him at a crossroads. One decision with two choices. The first, lined in shrouds of secrets, lies, and deceit. The other, a clear path to living life on the edge, continuing his fast-paced world of power, money, and an endless supply of women.
But when a secret is revealed after he announces his decision, will Declan hold on to his need to step out of his father's shadow? Or will his obsession to stand tall cloud his judgment and jeopardize his reputation, while costing him his heart.
Secret Sins is book four in Cayce Poponea's Code of Silence series. If you enjoy a Mafia romance where the main character knows the true meaning of Family and is willing to sacrifice himself so others can continue to hold their head up. Where a young girl who refuses to hope for a love found in the pages of books and chooses instead to honor those who mean the most to her, then you will love this installment of Cayce Poponea's page-turning series.
Pick up your copy of Secret Sins and discover this installment in the bestselling series Code of Silence today!!!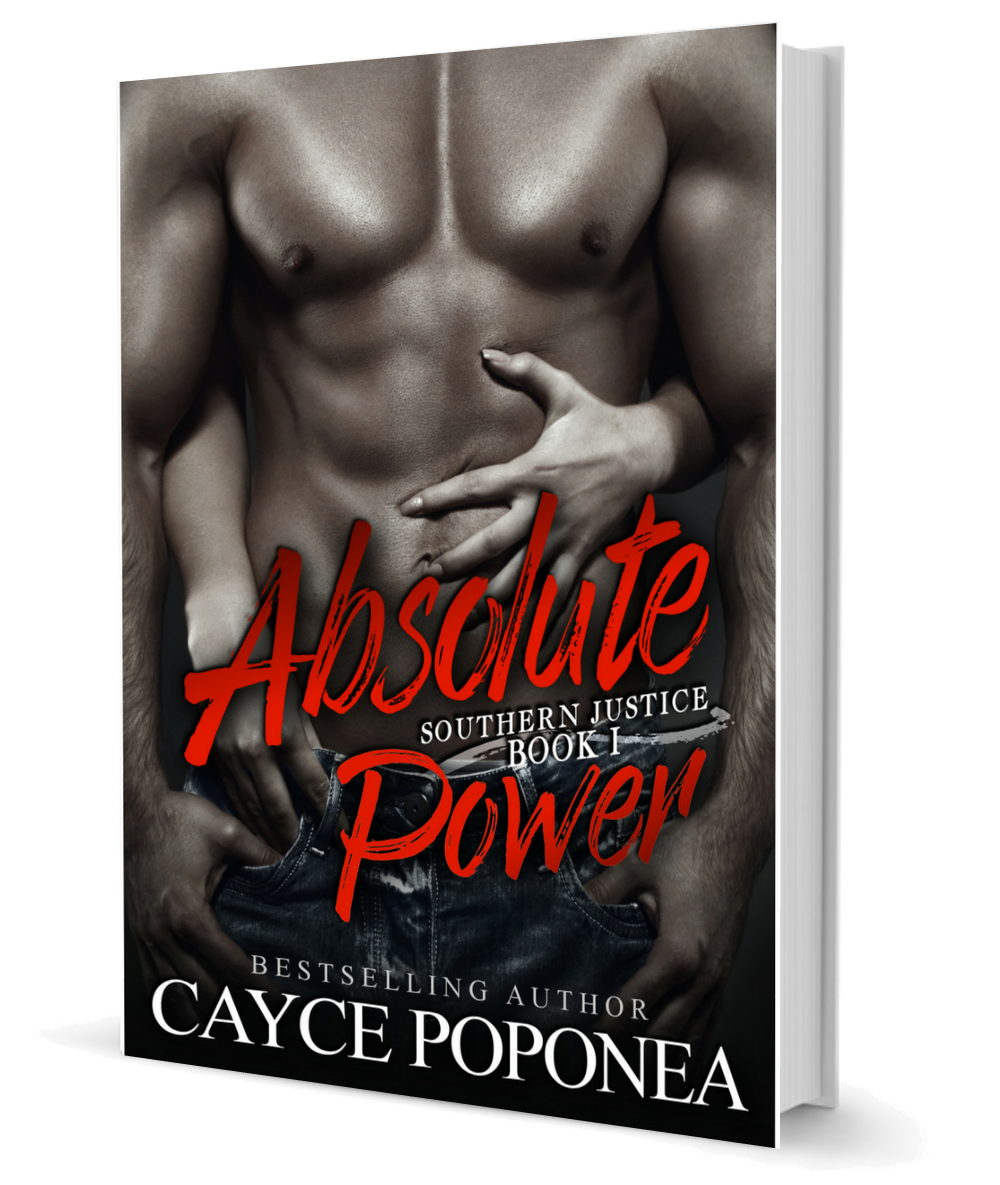 Absolute Power
Dylan Morgan has it all; a prestigious career as a Detective for the city of Charleston, devilish good looks and a selection of girls whenever he chooses. Southern born and raised, he lives by the pearls his Granddaddy imparted to him. But when he questions his worth to the citizens of Charleston, his fears are realized when someone close to him is in danger. Does he follow the letter of the law as his position dictates, or does he follow his conscience, which will cause him to straddle a fine line? Can Dylan overcome the demons he creates for himself? Or will he toss everything away in a moment of reckoning.
Claire Stuart has fought hard her whole life not to fall into the same trap as her mother. She refuses to allow men to use her and toss her away. Needing to escape the hardship her family creates, she seeks education over acceptance and uproots herself from the backwoods of Kentucky to the charm of Charleston. She knows all about Dylan Morgan and his choice to bed every woman he comes across, yet she finds herself unable to listen to the warnings her mind and friends give her. Can Claire ignore Dylan's past and allow herself to let someone in? Someone who could shatter her very sou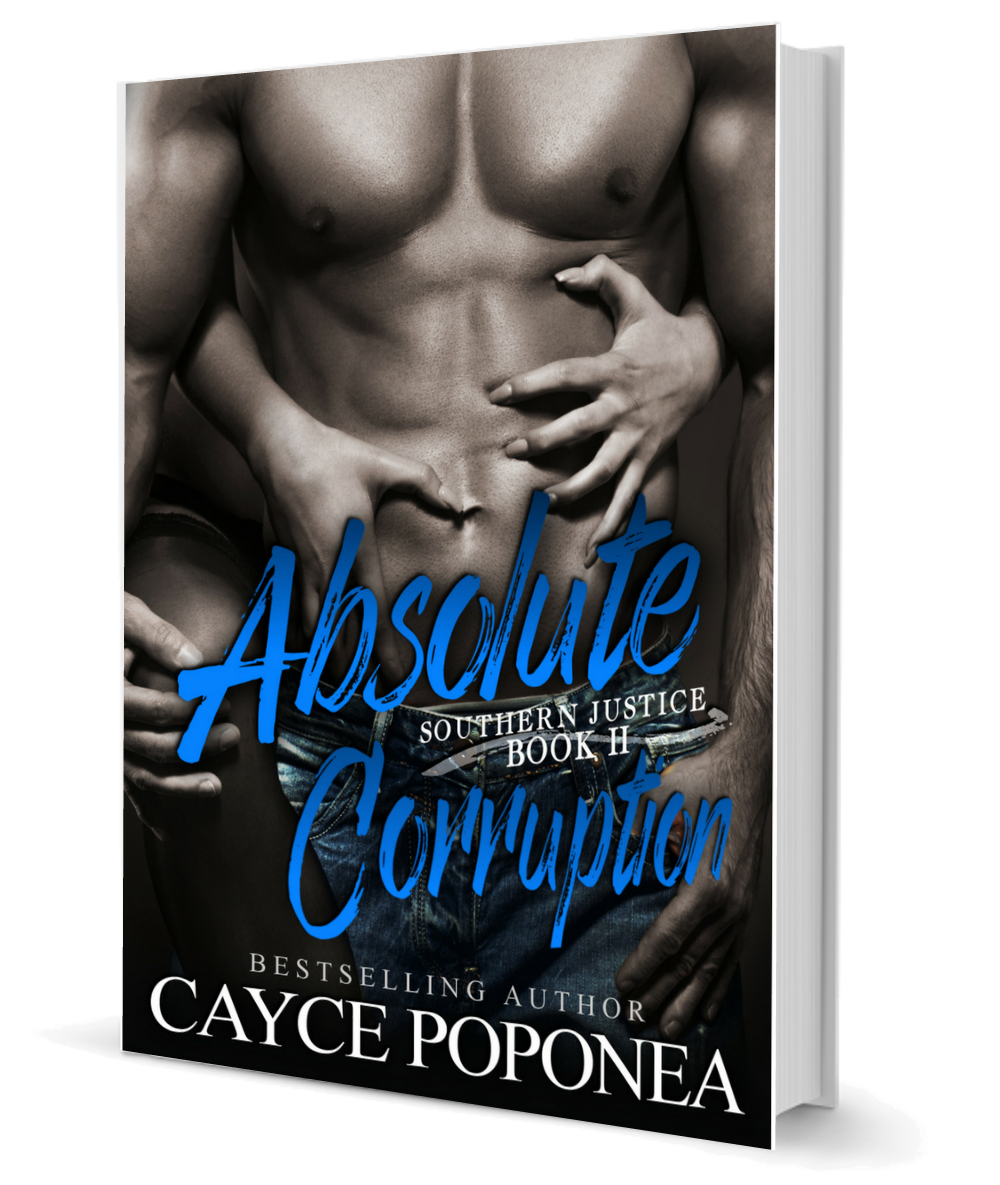 Absolute Corruption
ABSOLUTE CORRUPTION Book Two in the bestselling Southern Justice Trilogy
"Hold a door open for your girl, not because it's expected of you, but because it gives you a moment to appreciate her as she walks ahead of you."
Austin Morgan left the safety of his home in Charleston, accepting a position in New York City to make a name for himself. He wanted to earn his reputation through hard work, inventive ideas, dedication, and not by the legacy or influence of his family's name. His dedication to work leaves little time for a social life or the promises forgotten, creating the perfect opportunity for deception to reach its greedy hand out and grab ahold of this Southern born gentlemen. What will happen when he has to make an unexpected trip home and rediscovers what is really important? Will his eyes finally be opened to the deceit and misplaced trust of those around him?
"Never let the fear of falling keep you from learning how to fly."
Lainie Perry has never backed down from a challenge her entire life. She has come to count on her wits and stamina in achieving her goals. She has left her fears and those who would prey upon them in the dust. What happens, though, when her latest adversary exists only in her mind? Can she win the battle when the imagined enemy is already dead? Or will she need to seek help for this struggle?
Can these two find the help they need in each other? The answer is… Absolute Corruption, the second installment of the Southern Justice Trilogy.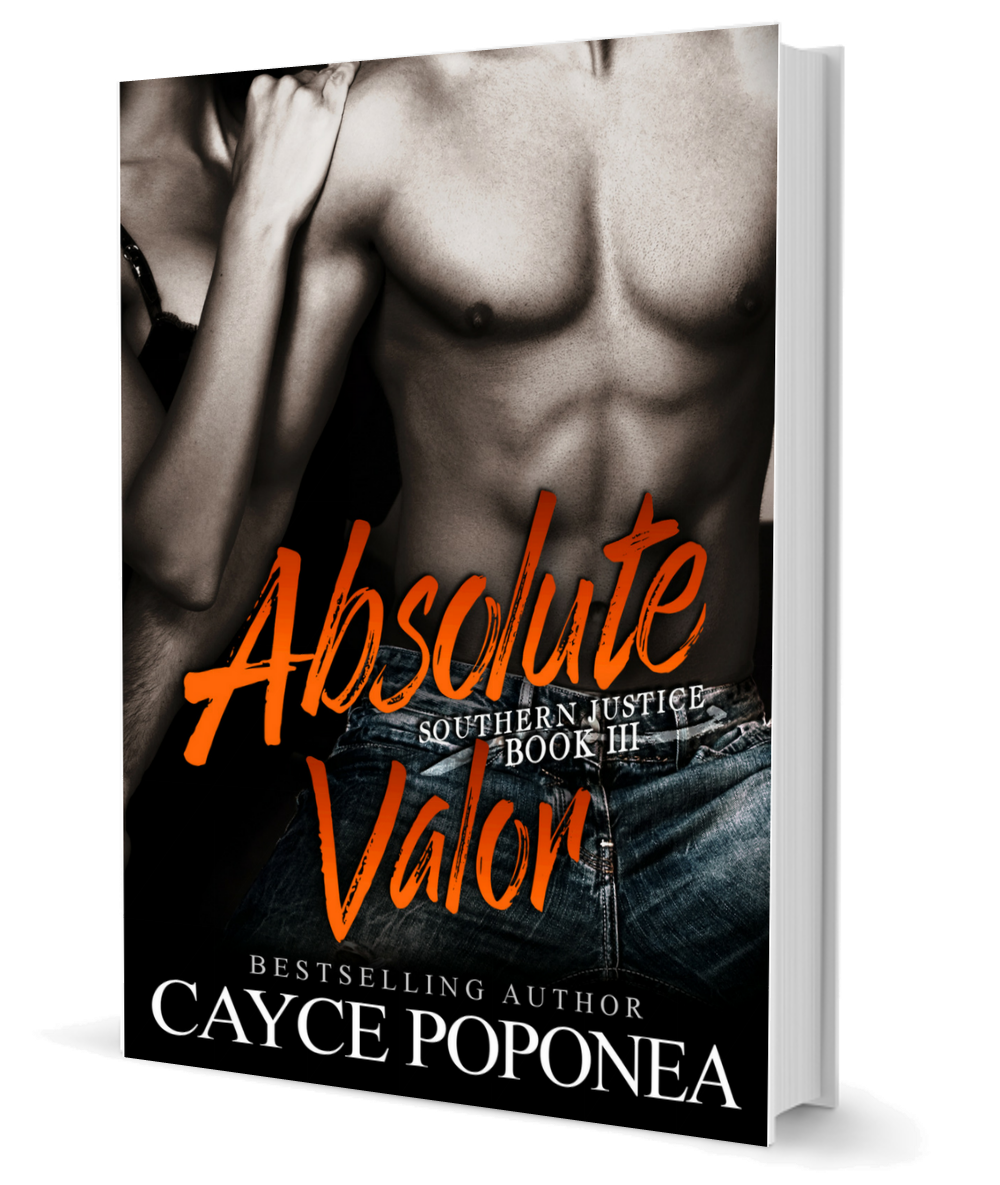 Absolute Valor
The third installment in the Southern Justice Trilogy
Chase Morgan said goodbye to the Marines, believing by removing his uniform, the hero persona would go with it. But when he meets the girl who shows him how the hero lives in the heart of the man and not in the clothes he wears. Will he be able to ignore the demons of his past, which plague him with reminders of cruel intentions? Or can he let true love move in and take residence in his heart.
Audrey Helms describes herself as a bad country song, complete with a boyfriend who treats her badly and more baggage than a Kardashian. Can this timid southern girl be the one to mend the bonds of brotherhood? Or will the sins of her past be too big to forgive? Will Audrey and Chase learn the meaning of true love, and how to live with no regrets and absolute valor?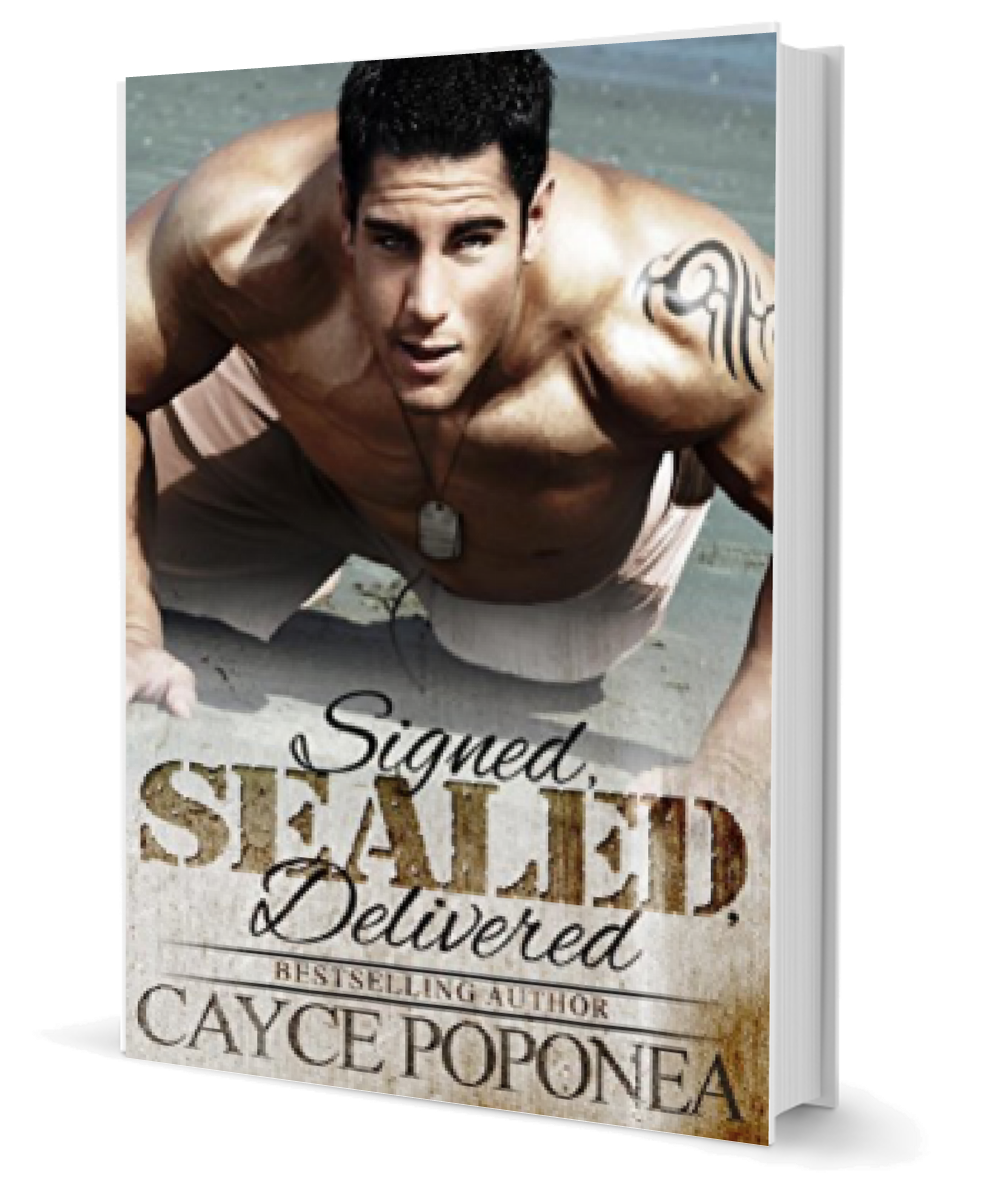 Signed, SEALed, Delivered
A SEAL on a mission. A woman dealing with her family's high expectations. A modern-day romance for the ages.
Lieutenant Zach Michaels is in the middle of the Korengal Valley. On the eve of a new mission, he receives a desperate letter from a young woman. After he discovers the letter belongs to another soldier, he takes on a new mission; making sure it finds it's intended recipient.
Kennedy Forrester has spent her life pleasing others, specifically, her social ladder climbing mother. When an internet search done in hopes of finding love, introduces her to the charm and charisma of Lieutenant Michaels, she is tossed into a world she never dreamed existed.
As the two continue to correspond from half a world away, will either of them figure out the common link they share? With their lives interconnected, and his SEAL days in the past, can they find a balance allowing a blossoming relationship to thrive? Or will a new mission, one involving Kennedy's safety, be too much for this new love to survive?
Signed, SEALed, Delivered is the first book in Cayce Poponea's romantic suspense, the Trident Brotherhood series. If you like Alpha males, who will stop at nothing to protect the women they love, sizzling sex scenes, and the evil of the world getting their just rewards, then you will love this installment in Cayce Poponea page-turning new series.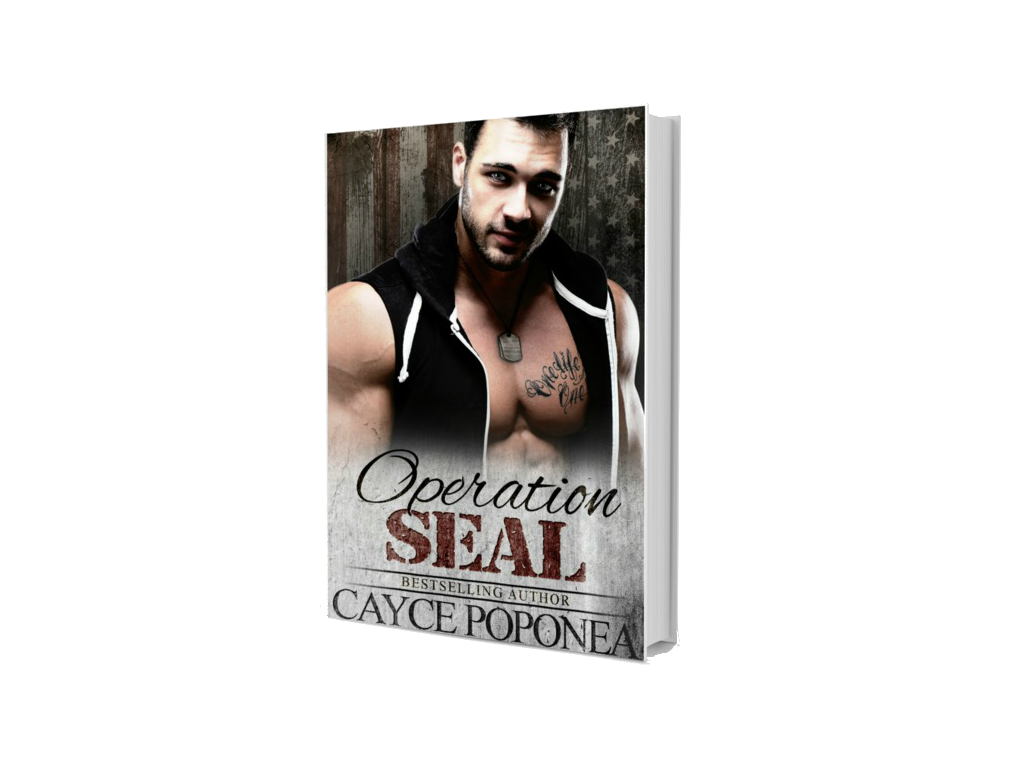 Operation SEAL
A SEAL trained to eliminate any threat. A young woman with a heart full of secrets.
Logan Forbes made a promise to a dying man he can't keep. His inability to make a difference drives him to join the military's most elite team. What happens when a package from a complete stranger changes everything about him? Will he finally be able to forgive himself for the sins of his past? Or will he lose the fight to an enemy he can't see?
Harper Kincaid spends too much time living in the past. She is ready to bind herself to a man she doesn't love, only to avoid dealing with the ghost she hides behind. When an act of pay-it-forward turns into a battle with a mad man, she will need the help of an elite killer, one she feels conflicted to love. Can Harper put her past in the rear view mirror? Or will the secret be too big to forgive?
This suspense filled romance will have you on the edge of your seat, gasping for air. Leaving you questioning who is the enemy and who will be the savior. Operation SEAL is the second installment in bestselling author Cayce Poponea's romantically, suspenseful Trident Brotherhood Series.